Lynn Schofield Clark, The Parent App: Understanding Families in a Digital Age (Oxford U Press, 2012).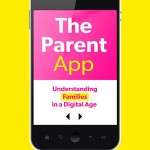 "Clark's research and richly textured interviews yield tips that can help parents use social media to cope with work-family stresses in ways compatible with their particular values and needs. This thoughtful book challenges doomsday predictions about the impact of digital technology on individuals but offers disturbing evidence that the current organization and context of social media may exacerbate rather than reduce social differences." –Stephanie Coontz, author, The Way We Never Were: American Families and the Nostalgia Trap
"For any parent out there who is anxious about your child's use of social media: this book is for you. The Parent App provides important insight into the role of technology in contemporary middle class family life, combining the perspectives of parents and youth in order to highlight where there are tensions and confusion. Using a delightful mix of narrative and analysis, Clark invites parents to understand what is unfolding so that they don't feel so trapped."–Danah Boyd, Senior Researcher at Microsoft Research.
Lynn Schofield Clark, From Angels to Aliens: Teenagers, the Media, and the Supernatural , Oxford University Press, New York , 2003
(paperback 2005). "A truly unique book, From Angels to Aliens uses solid empirical evidence to spin out an engaging story about adolescence and media culture, with an ironic twist about traditional evangelicalism unintentionally promoting a broad cultural fascination with the supernatural and the occult." –Christian Smith, Professor of Sociology at the University of Notre Dame and Director of the National Study of Youth and Religion Ordering info
Stewart Hoover, Lynn Schofield Clark, and Diane Alters, Media, Home, and Family , Routledge , New York , 2004. "Not since David Morley's Family Television has a book taken up this topic with this kind of scope. I would not be surprised if it attained the status of a classic in the field." – Ellen Seiter, University of Southern California . "This book is a fascinating read and a valuable addition to the ethnographic literature about television's role in the American family. Its skillful research fills a gaping hole in our knowledge about how media is negotiated between parents and children amongst a broad cultural spectrum of families in the U.S. " -Andrea Press, University of Virginia . Ordering info
Lynn Schofield Clark, Ed., Religion, Media, and the Marketplace , Rutgers University Press, New Brunswick , 2007. "The breadth of coverage given to different religious traditions in this volume is nothing short of astonishing. The reader is taken on a wide-ranging tour of religion, media, and markets across diverse social and cultural contexts."-John P. Bartkowski, author of The Promise Keepers: Servants, Soldiers, and Godly Men Ordering info
Stewart Hoover and Lynn Schofield Clark, Eds., Practicing Religion in the Age of the Media , Columbia University Press, New York, 2002. Ordering info
Contributing Author:
International Handbook of Children, Media, and Culture, Edited by Kirsten Drotner and Sonia Livingstone. (Sage, 2008)
Ordering Info
Mediatization: Concept, Changes, Consequences, Edited by Knut Lundby (Peter Lang, 2009).
Small Screen, Big Picture: Religion and Prime Time Television in a Post 9/11 World, Edited by Diane Winston (Baylor U Press, 2009). Everyday Religion: Observing Modern Religious Lives, Edited by Nancy Ammerman. (Oxford University Press, 2007) Ordering Info
Northern Lights Film & Media Studies Yearbook, Vol. 6: The Mediatization of Religion, Edited by Stig Hjarvard, Intellect Press (2008) Ordering Info
Between Sacred and Profane: Researching Religion and Popular Culture, Edited by Gordon Lynch (I.B. Tauris, 2007).
Girl Wide Web: Girls, the Internet, and the Negotiation of Identity (Peter Lang, 2005) Ordering Info
Comments
August 7, 2013




August 29, 2014




March 17, 2015




April 13, 2015




May 26, 2015




June 3, 2016




June 4, 2016